My Family

In July, '98 we went to Six Flags, Marine World (my wife, my daughter, my grandson,
my son, my parents and I). My son-in-law, Tony, had to work. We had a great time
and while we were there, we decided to splurge and take this picture. My
grandson, Jeremiah, sits in the front followed by his mommy and then her
mommy and then me. Assorted others are my son, holding onto the tail fin,
and my parents hanging on for dear life.

You know what I don't understand. Why do we all look dry after being in
the water with the killer whale? It must be photo re-touching.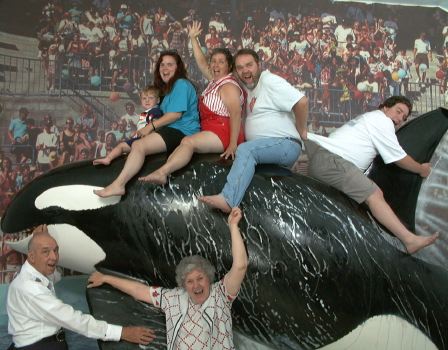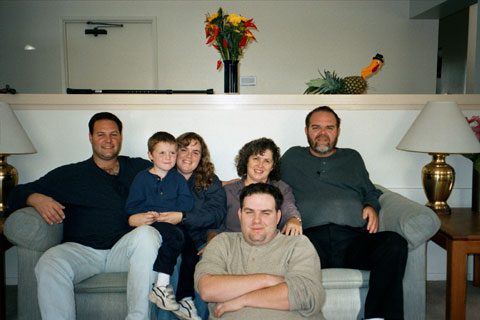 Family Reunion, Thanksgiving 2000: We let Tony into this picture.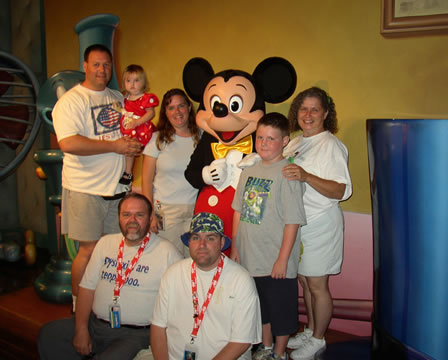 Disneyland with Mickey, October 2004 with Jeremiah (8) and Julia (2)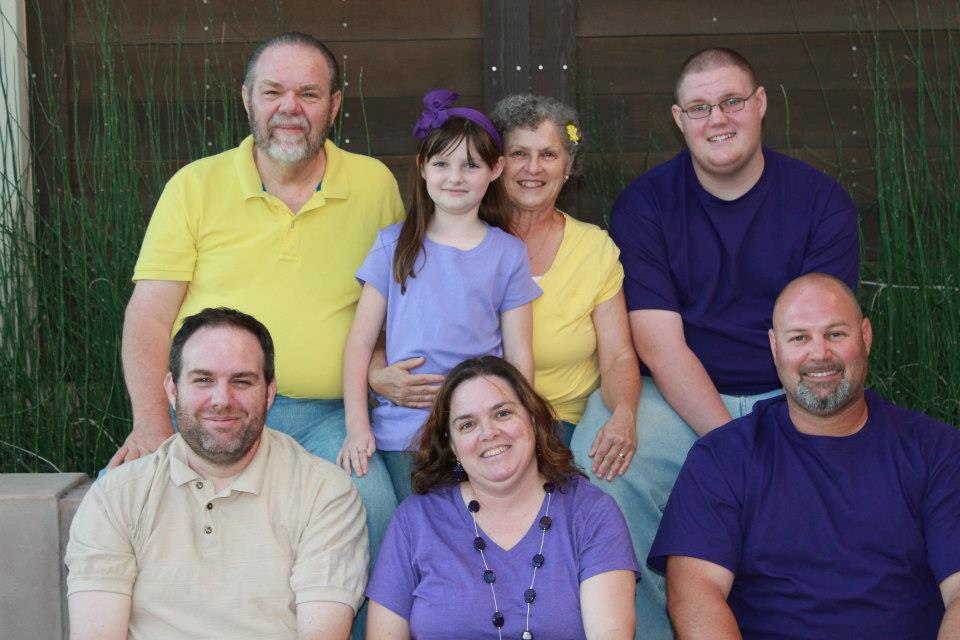 Family Picture, August 2012


My Biography







I was Born in Oakland, California and graduated from Fremont High School around the time frame of the "Summer of Love" across the Bay. Got my BS from Western Baptist Bible College in Salem, Oregon. Started and ran my own trucking business for three years. Went back to school and received my Master of Arts in Biblical Studies (MABS) from Northwest Baptist Seminary. Calvary Baptist Church in Yermo asked me to be the pastor and I was for about two years. Vivian Brown the Principal of Barstow Christian School asked me if I would like to teach middle school and 38 years later I still am. We now reside in Oakley, California, in the heart of the Delta. The Sacramento and San Joaquin Rivers come together not far from my home and there are around 30 islands within an hours drive. It is a fisherman's paradise.

++Th..D. from Golden State School of Theology in September 2004.
++In 2003 I became certified to borrow Lunar samples (Moon Rocks) from NASA AMES ERC.
++In 2001, I completed Child Evangelism Fellowship's Children's Ministries Institute, Level One
++I completed my DRE, Doctor of Religious Education, in'99 from GSST.
++If you have a great Shaklee product and no one to supply it, I can do that. I "sell" Shaklee all biodegradable products
++My wife, Karen and I have been working with Jr. Hi. students since 1970.
++I am a licensed Baptist pastor and led a flock in the Mojave desert for a short time in 1975-7.
++I was Registrar and recently became Vice President of Golden State School of Theology.
++Karen and I have been married for 43 years, 10/03/70.
++The middle school teacher in our little community of Barstow was bitten by a black widow and I was the sub in 1977. I taught almost every day until September of 2013.
++I taught both of our children during their middle school years in a fairly large school in Concord, California.
++Jeremiah, my grandson, will be eighteen in June, '14.
++Julia will be twelve years old in June '14
++I usually don't send home tests, because I use them year after year, and several parents each year won't send them back.
++Started FCLC in Brentwood in 1991 and was a consultant until 2009.

++Taught English in Wuxi, People's Republic of China during the summer of 1993.
++Taught English in Shenzhen, People's Republic of China in the summer of 1994.
++Taught Christian Ed in Dagupan, Pangasinan, Philippines in the summer of 1997. I was looking at the South China Sea just a couple of kilometers from where General MacArthur landed with his corn-cob pipe in 1944.
++Karen traveled with me for the first time to Dagupan and we did a week long seminar teaching Christian Education at Golden State School of Theology in July, 1999.
++Taught English and Christian Education at Northeast Bible Seminary in Khon Kaen, Thailand during the summer of 2001.
++Taught English in Du'an, Guangxi, People's Republic of China at Du'An Senior and Middle School in the Summer of 2005.
++I took a quick trip to Dagupan in January, 2011, to deliver a doctoral diploma and two day seminar on Christian Education.
++I had the privlege of going with 30 teens to San Quentin, Baja, Mexico in October of 2006 and again in 2008.

++I have two Lifetime ACSI certificates: Professional K-12 Bible and Professional Teaching Certificates.
++I also have a California Multiple Subjects Teaching Credential.

++I have a lifetime School of Tomorrow, Supervisor's Certificate and teach in an ACE School.
++In 1996 I was in Who's Who Among America's Teachers
++In 1993 Kirsten, one of my tenth graders at Christian Center School won the California ACSI writing contest and we were able to attend the Mount Hermon Writing Seminar as a prize.
++I have an Extra Class "HAM" or Amateur License AC6ZZ
++I wrote a weekly article on Astronomy for 11 years for the Bethel Island Beacon Gazette and have published articles in national periodicals.
++Each year my students are several points above the national and Christian mean. My 2000-2001 class was over two years above average. My 2001-2002 students were five years over national norms. My 2002-03 Math students were three years advanced over the norms.
++In 1998 I read for Educational Testing Service (ETS) on the NAEP or National English Report Card as it is commonly called.
++My wife, Karen and I were invited to attend the Centennial of Flight a three day seminar at NASA, Ames Research Center in Mt. View during the summer of 2003.
++For several years, until my car acident, I worked with the teenaged boys at Byron Boys Ranch as their Bible teacher on Friday evenings.
++For the last seven years I have been working with our Neighborhood Church AWANA program.
++I enjoy lots of friendly interaction between parents/students and myself.
++After working in large Christian schools for years, I worked with my wife at Faith Christian Learning Center for six wonderful years.
++For the last number of years I have worked in the Nursery of our church most Sundays. I get my baby fix and have wonderful interaction with the young families of our church.
++In September, 2009, I was offered a postion at Heald College and taught until September 9, 2013. I am due back as an adjunct, during the April, 2014, quarter.
++I believe God changed the direction of my life on September, 2013, when I had a heart attack and I had no pulse or breath for over five minutes. Using paddles the paramedics were able to get my heart started, and I woke up three days later with a rebuilt heart. I am actually feeling far better and stronger than I have in the last several years and am looking forward to the next phase of my life. I'll keep you updated.
++I want all men, women and children to be in heaven when they leave this earth. All people need to believe Jesus died, buried and was resurrected for their sins to open heaven's gates. Want to know more? Send me an email in the box below.
++I love to answer Bible questions. Got one?



++I have two domain names I regularly use:

++I have a Professional HOME page Did U Ask

++I have a Hobby HOME page including my Radio Station and .Astronomy pages





Back to home page
AC6ZZ
Astronomy!
On Creation
On Salvation
On Teaching
On Writing
SAY SO






"Repetition is the Key to memory"